CUSTOMER SERVICE INTERRUPTION - TUE 12 DEC
Council's customer service centres will have a planned service interruption on Tuesday, 12 December that will temporarily impact customer service hours.
Customer Service Centres - Erina: closed all day | Wyong: closed from 12.30pm | Gosford: closed from 12pm. All Council Customer Service services will resume as normal from 8.30am Wednesday, 13 December. For urgent matters, you can still call us on 02 4306 7900. Our online Customer Service Centre is also always available.
COUNCIL OFFICE CLOSURES - CHRISTMAS AND NEW YEAR 2023
Council offices will be closed over the holiday period from Mon 25 Dec 2023 to Mon 1 Jan 2024 (re-opening Tues 2 Jan 2024).  Some of Council's services and facilities will be closed or have changes, however essential services will continue to operate.  
For urgent reports or issues, call Council on 02 4306 7900 at any time.  Non-urgent reports, and enquiries can be lodged 24/7 through our online Customer Service Centre (and progressed from 2 Jan).
Flood risk tools
Access online flood mapping tools to understand your own risk of flooding, and better prepare for the impacts of floods.

If you live in low lying areas or within a floodplain, it's important to understand your own personal flood risks and have an up-to-date plan to ensure you are adequately prepared to respond to flood emergencies.
Interactive online flood mapping tool
It's not always possible to predict when, where, or how big the next flood will be.  However, the likelihood of different sizes of floods and their consequences can be estimated by computer flood modelling.  
Use the following online flood mapping tools to understand your risk of flooding and how your property and surrounding streets may be impacted at various water levels:
Tuggerah Lakes residents 
Council has developed an interactive online flood mapping tool for Tuggerah Lakes, which draws on current and predicted flood levels directly from the Bureau of Meteorology and converts it into a visual display to show the extent of flooding.  You can search your property, and see the impacts of current water levels, minor, moderate, and major flood events.  This can help you understand the potential flood impacts to your property, and identify escape routes, places to safely park your car during a flood etc. Council also intends to display flood peaks forecast by the Bureau of Meteorology when there is a predicted flood.   View more information on Tuggerah Lakes and the management of The Entrance Channel on our Tuggerah Lakes estuary web page.
Image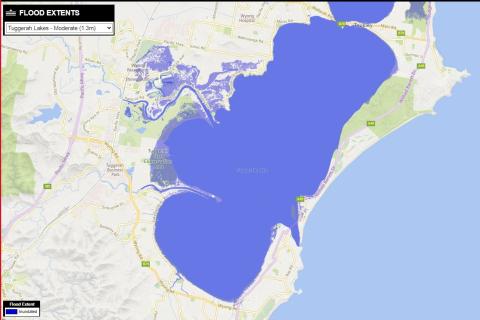 Residents in other areas of the Central Coast
Council's region-wide online mapping tool, provides a range of flood information on a visual map. Please refer to the fact sheet on definitions of flood mapping layers for further details. Note: Council is exploring the development of tools similar to that listed above for Tuggerah Lakes for use in other suitable locations)
Image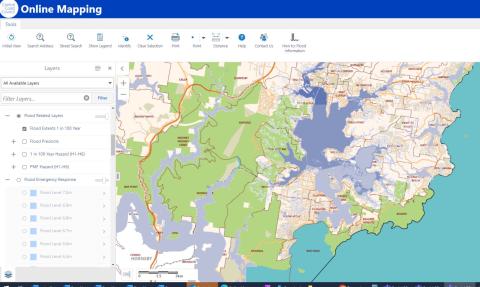 Alternatively, contact Council to confirm if your property is within a potential floodplain.
For information on Council's management of coastal lagoons including water levels and intervention trigger information, see our coastal lagoon web page.
 
Rainfall and water level gauges
In total, there are currently 52 rainfall gauges and 41 water level gauges in operation on the Central Coast. They are owned by four different agencies including the Bureau of Meteorology (BoM), WaterNSW, the Department of Planning and Environment (DPE), as well as Central Coast Council.  
Most of these gauges are managed on behalf of Central Coast Council by the NSW Government's Manly Hydraulic Laboratory.
Other water level and rainfall gauge data on the Central Coast can be found under the links below:
Plan and prepare for floods
We know that severe weather and other emergency events will continue to be a part of our lives on the Central Coast and that flooding occurs in our region. 
View our planning for emergency web page for flood preparedness resources and more information.
Have you experienced flooding?
Council appreciates any information from the general public to help monitor flood issues on the Central Coast.
If you have experienced consistent minor flooding on or near your property which has originated from a local stormwater drain, natural stream or estuary please report it to Council.
This information is important to help identify new or repeated areas of flooding, assist with determining flood heights for future flood events, and to identify areas for priority investigation and potential works to alleviate the problems.