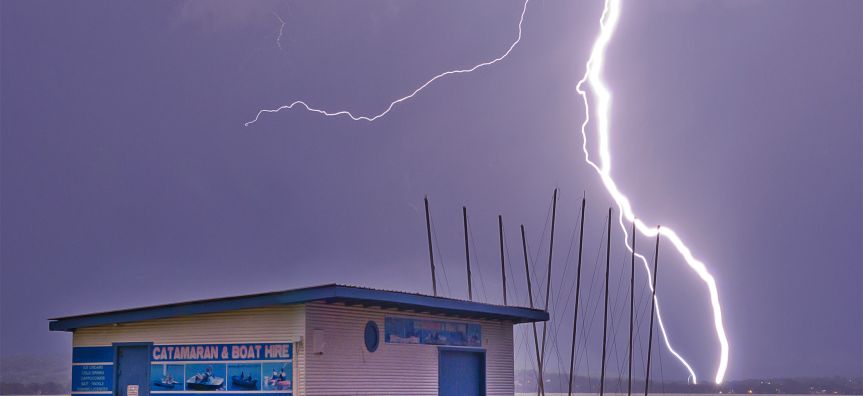 The weather is becoming more unpredictable and severe storms are increasing in frequency. Learn how you can prepare for severe storms, how to report incidents to responders and where to find help if you need it.
Emergency Contact Numbers – at a glance
| Service | Contact Number | Website |
| --- | --- | --- |
| Emergency (Police, Ambulance, Fire Brigade) | 000 (from a landline) 106 (for people with hearing or speech impairment) 112 (from mobile phones) | www.triplezero.gov.au |
| State Emergency Service (SES) | 132 500 | www.ses.nsw.gov.au or www.stormsafe.com.au |
| Bush Fire Information Line | 1800 679 737 | www.rfs.nsw.gov.au |
| Council After Hours (Rangers as well as roads, water and sewer emergencies) | 1300 463 954 | www.centralcoast.nsw.gov.au/reportaproblem |
| | | |
Keep up to date
Get the latest information including weather warnings, road closures, power outages, flood and bushfire warnings and damage through Council's social media channels which are constantly updated in any emergency.
Follow us on Twitter and like us on Facebook
Stay informed
In an emergency, stay informed - know where to get emergency updates, weather alerts, advice, information and instructions.
See current emergency coverage
Listening and social media
In an emergency - listen to local radio (ABC 702AM or Central Coast 92.5FM) to keep up to date with the latest information.
Council uses its social media networks - Facebook and Twitter extensively during storm emergencies to keep our community up to date so make sure you follow these networks as well:
'Get Ready' Central Coast
Central Coast Council has joined the NSW Government's 'Get Ready' initiative which outlines five steps to prepare for any emergency. The five steps are:
1. Know your risk
Think about the area you live in and the types of disasters that could affect you.
2. Plan now for what you will do
Sit down and talk with your family and plan for what you will do if a disaster affects your area.
3. Get your home ready
Prepare your home by doing general home maintenance and checking your insurance.
4. Be aware
Find out how to prepare and what to do if there is a disaster in your area
5. Look out for each other
Share information with your family, friends, neighbours and those who may need assistance.
Storm preparation
Below are three simple steps you can take to prepare you home for storms:
1. Clean
Clean out gutters and downpipes.
2. Secure
Secure or put away loose items in your yard or on your balcony.
3. Check
Check the roof is in good repair.
How to be FloodSafe
With increasing unpredictable and extreme weather patterns Central Coast residents are advised to be flood aware and, if close to areas that are prone to flooding, have a flood plan.

To learn more about floods in your local area, simple things you can do and to develop your own flood plan visit the SES FloodSafe site.
Storm Response
If your property has been damaged by floods or fallen trees from storm events, contact the SES on 132 500 for assistance. The SES is available 24 hours a day 7 days a week.
Electrical Safety
Storms can damage the electricity network and interrupt power supply to homes and businesses. They can also cause considerable damage to buildings, trees and infrastructure, which may create hidden electrical hazards.
Ausgrid has online safety tips on how to be storm safe including preparation, during a storm and after a storm, what to do in a blackout and how to check power outages suburb by suburb and street by street.
Recovery services
Disaster Welfare Services can provide relief grants to eligible individuals and families whose homes and essential household items have been destroyed or damaged by a declared natural disaster. People with limited financial resources and no insurance may be eligible for assistance for essential household items and structural repairs to the home.
For details of other assistance schemes, please visit Emergency NSW or call State Disaster Welfare on 1800 018 444.
Power Outages
If your home or business has lost power, visit Ausgrid for updates or contact 13 13 88 for emergencies or 13 13 65 for enquiries.
Loss of Reception
If your home or business has lost television reception, visit the Australian Communications and Media Authority or call 1300 850 115 or email info@acma.gov.au.
Fallen trees and debris
Trees on public land that have fallen onto private property will be cut up and removed by Council as soon as practicable.
For trees on private property that have fallen onto public land, Council will only remove the material from public land if it presents a risk to the community. For dangerous trees on private land, call the SES on 132 500.
Report all incidents to Council on 1300 463 954 or via email at ask@centralcoast.nsw.gov.au.
Water or sewerage emergencies
Storms can cause sewers to block or overflow into the environment because of the larger amount of water in the pipes needing to disburse. Large storms may also cause damage to water supplies.
Report all emergency incidents to Council on 1300 463 954 or for non emergency issues please use the customer portal.
Clean up services – green waste
If you have extra green waste following a storm, you may need to book a free kerbside collection through Council's waste contractor or call 1300 126 278. Every residence on the Central Coast is entitled to six free collections a year and they reset on 1 February each year.