Read below to learn how to read your water meter and what to do if you suspect a leak.
Is your water bill higher than normal?
1. Check your water usage
We read your water meter quarterly (i.e. every three months or about 90 days). The number of days between meter reads can differ due to the fact that we may not be able to read your meter on exactly the same dates in each quarter.
This can be due to various reasons, including bad weather, locked gates or a dog on your property. This means that the number of days you are charged for your water and sewerage services can vary, affecting the amount of your bill.
You can check the period water usage has been charged for on the back of your water notice under 'water meter details'.
2. Check your water meter
If you've checked step 1, and you're still not sure why your bill is higher, then we recommend checking your water meter. On rare occasions your water meter reading may have been recorded wrongly by the meter reader, or your meter could be faulty.
Check to see if the meter reading on your water meter is relatively close to 'Latest reading' on the backside of your most recent bill under 'water meter details'. If the meter reading on your bill looks like it could be a mistake or you're not sure, please contact us.
If you're unsure how to read you water meter please see image below for basic instructions. The read will be the digits on the black and white dials (Kilolitres).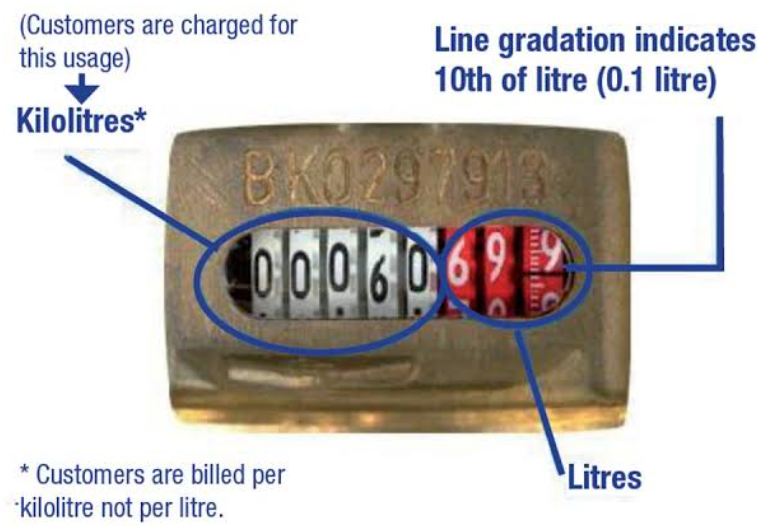 3. Check for a leak
On occasions, an increase in your bill could be due to a water leak.
Leaks that are hidden in underground pipes or in faulty plumbing and fixtures (such as leaking toilets) can go undetected for a long time. Some leaks waste more than 2000 litres of water a day!
That's why we recommend reading your meter and checking for leaks regularly.
Managing leaks on a property is the owner's responsibility but we can assist customers experiencing financial hardship who have had a concealed leak. To see if you're eligible for financial assistance please see Council's Concealed Leak Policy.
4. Concealed leaks
If you have identified that a leak is or was present on your property but does not comply with the requirements set out in Council's Concealed Leak Policy, financial assistance will not be provided under the policy. However, if evidence shows that the leak was caused by Council operations (e.g. new water meter installed incorrectly) an adjustment may be made to your water account pending an investigation.
Lodge your claim via our Customer Service Centre (under Rates & Water Billing enquiry) with a description of the leak and potential cause, please also include the excess usage caused by the leak.
How to read your water meter
1. Locate
Water meters are usually located in line with the front boundary of your property.
2. Identify
Water meters vary – some have numbers and clocks, others only have numbers. The meter generally reads from left to right – black digits show the kilolitres (1,000 litres) and red digits show the single litres used. Your meter may have two, three or four red numbers.
3. Record
Ony record the black digits. Recording your meter reading regularly will show how much water you use and help you detect leaks early.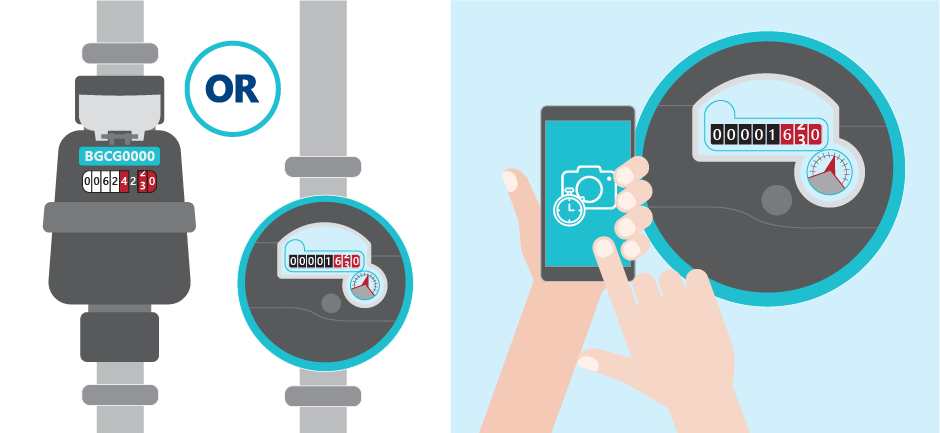 Access to your water meter
To provide Council with reasonable access to the water meter for the purposes of reading and/or maintenance, property owners should ensure space of a least 300mm around and below the water meter and 1200mm above the meter is cleared. The water meter must be clear of shrubs and trees, hazardous plants, soil and other obstructions.
Should your water meter be behind a locked gate or a dog is within its proximity, please contact Council to make access arrangements. If our water meter reader is unable to access your water meter, a card may be left in your letter box requesting suitable access to your water meter and a current water meter reading be provided to Council.
Council is responsible for your water meter, meter tap and the pipes and inspection points leading to your point of connection.
Property owners are responsible for all pipes and fittings on the property from their point of connection. They must also ensure the meter has safe and reasonable access at all times.