CUSTOMER SERVICE INTERUPTION - TUE 12 DEC
Council's customer service centres will have a planned service interruption on Tuesday, 12 December that will temporarily impact customer service hours.
Customer Service Centres - Erina: closed all day | Wyong: closed from 12.30pm | Gosford: closed from 12pm. All Council Customer Service services will resume as normal from 8.30am Wednesday, 13 December. For urgent matters, you can still call us on 02 4306 7900. Our online Customer Service Centre is also always available.
COUNCIL OFFICE CLOSURES - CHRISTMAS AND NEW YEAR 2023
Council offices will be closed over the holiday period from Mon 25 Dec 2023 to Mon 1 Jan 2024 (re-opening Tues 2 Jan 2024).  Some of Council's services and facilities will be closed or have changes, however essential services will continue to operate.  
For urgent reports or issues, call Council on 02 4306 7900 at any time.  Non-urgent reports, and enquiries can be lodged 24/7 through our online Customer Service Centre (and progressed from 2 Jan).
Creative Art Central
Designed to inspire local creatives to design a new and contemporary creative work that demonstrates a strong connection community.
Creative Art Central is an annual commissioning program which offers funds for established and emerging creatives of diverse disciplines living on the Central Coast. 
The program has been designed to inspire local creatives to deliver new and contemporary work that demonstrates a strong connection to community and opportunities for participation.
2024 application process
Registration
Registration has now closed. We are currently working through all he registrations to prepare for the seed funding announcement.
Seed funding
Awarded 20 November 2023
The top 10 registrations will be awarded $1000 each in seed funding to further develop their concepts and get ready to pitch their creative idea.
Pitch to present
12-16 February 2024
The top 10 seed funded registrations will be required to pitch their ideas to an independent creative industry panel in an attempt to be awarded a Creative Art Central commission.
Commissions announced
29 April 2024
Final projects delivered 
30 June 2027
More information
For more information on the program or questions on how to register, please contact the team on culturaldevelopment@centralcoast.nsw.gov.au
If you require a reasonable adjustment contact Madalyn.Trypas@centralcoast.nsw.gov.au 0436 923 702 (this is for those who have applicants who have limited English or have a disability and require adjustments to any part of the process, including Pitch and Registration).
Read our fact sheet to find out more about the program. See here for an Easy English version of the fact sheet.
Creative Art Central 2022/23
Image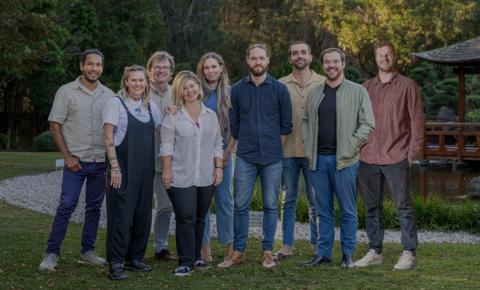 Pictured left to right: Carlos Diaz, Casey Gray, Krzysztof Pekowski, Merran Winchester, Sarah Staunton, Will Small, Eamonn Snow, Cameron Smith, Reed Plummer (Photography by Mike Wolfe. Venue: Edogawa Commemorative Garden, Gosford Regional Gallery).

In 2022/23 Central Coast Council received 71 applications from a diverse range of local creatives across a wide range of creative disciplines. 
The 2022/23 successful recipients were:
Professional category
Homebrewed Radio - Cameron Smith / Eamonn Snow, Homebrewed Studio Sessions (radio / video)
check out their first three sessions:
Tessa Thames
Winterbourne
Pilot Buffalo
Will Small / Lead by Story - This is How We Survive (poetry / video)
Sarah Staunton - Make Love Bloom (interactive Art Installation)
Merran Winchester - Saltwater Sounds (audio stories)
Reed Plummer - True Nature (photography)
Emerging category
Christopher Diaz - Carlos Diaz / Krzysztof Pekowski, If You Love Me, Save Me (sculpture)
Casey Gray - Forging history: Let's make English Easy! (creative writing).
Final projects delivered by 30 June 2024.
Creative Art Central 2021/22
Image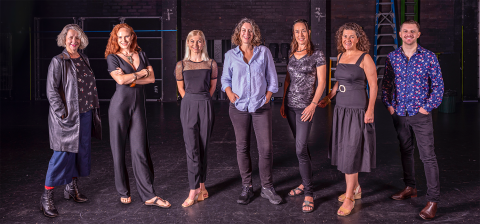 Pictured (left to right) Kaye Harrison, Amelia Foxton, Brigitta Oldereid, Andi Mether, Toni Houston, Sarah Beard and Aaron Trew.
In 2021/22 Central Coast Council received 94 applications from a diverse range of local creatives across a wide range of creative disciplines. The six successful recipients of the 2021/22 round were:
Professional category:
Kaye Harrison of Treehouse Media – 'Music Central', documentary short film 
Andi Mether of Zest Events International Pty Ltd – 'Look Mum, Watch Me' all abilities sculptural commission
Toni Houston of Toni Houston Media and Sarah Beard of Artesano Productions Pty Ltd – 'Coasting, into the heart of Bouddi', documentary short film
Aaron Trew of AJ Trew – 'Scoring Music for Film', film scoring professional development project 
Emerging category:
Amelia Foxton – 'Mother Tongue', Feature length film
Brigitta Oldereid of Brigitta Dance Projects – 'Contemporary Coastal Dance', choregoraphed new work.