CUSTOMER SERVICE INTERUPTION - TUE 12 DEC
Council's customer service centres will have a planned service interruption on Tuesday, 12 December that will temporarily impact customer service hours.
Customer Service Centres - Erina: closed all day | Wyong: closed from 12.30pm | Gosford: closed from 12pm. All Council Customer Service services will resume as normal from 8.30am Wednesday, 13 December. For urgent matters, you can still call us on 02 4306 7900. Our online Customer Service Centre is also always available.
COUNCIL OFFICE CLOSURES - CHRISTMAS AND NEW YEAR 2023
Council offices will be closed over the holiday period from Mon 25 Dec 2023 to Mon 1 Jan 2024 (re-opening Tues 2 Jan 2024).  Some of Council's services and facilities will be closed or have changes, however essential services will continue to operate.  
For urgent reports or issues, call Council on 02 4306 7900 at any time.  Non-urgent reports, and enquiries can be lodged 24/7 through our online Customer Service Centre (and progressed from 2 Jan).
Council is committed to the provision of places for everyone to feel welcome and participate in community life – including playspaces.
Inclusive playspace design means that everyone can participate and have a positive experience, regardless of age, gender, ability or backgrounds. Inclusive playspaces provide for all abilities, not just access. Accessible playspace design mainly addresses the movement needs of those with limited mobility or specific physical disabilities. Council vary playspace inclusions across different sites on the Coast to accommodate the varied needs of all disabilities – whether they are physical, mental, intellectual or sensory impairments. 
Typical considerations include fencing requirements, type of ground cover, pathway access, stimulating play equipment or quiet play, colourful equipment or natural infrastructure, visibility, parking. Design for all abilities requires consideration of the wide spectrum of needs as not all playspaces can cater to all needs. 
Our larger facilities such as the district and regional playspaces provide the greatest range of inclusive features. 
Council implements the principle of providing inclusive and accessible playspaces in line with the endorsed NSW Government 'Everyone Can Play' guidelines and Central Coast Council's Disability Inclusion Action Plan to meet the needs of our diverse range of users. Council was also involved in the working group for developing the NSW Government's 'Everyone Can Play' Guidelines 2019, a collaborative initiative to ensure new and upgraded playspaces are inclusive and accessible for everyone. These guidelines were developed with extensive consultation with advocacy and advisory groups, parents and educators and qualified industry experts. Council has completed an independent access appraisal on all its playspaces and is developing a program for improving access in playspaces across the region with priority given to addressing deficiencies in existing regional and district playspaces and in some local playspaces
Image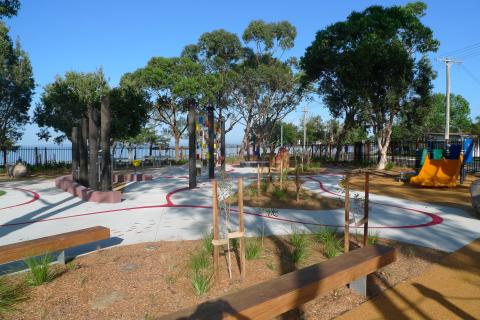 Image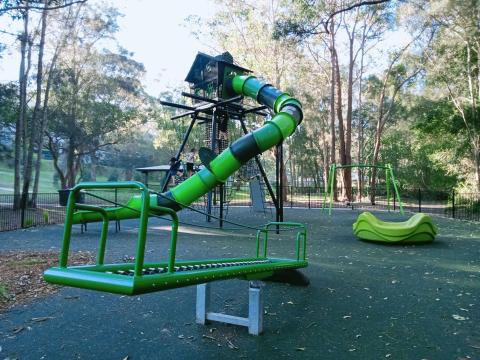 (L to R): Canton Beach playspace , Copacabana Susan Fahey park playspace
 

| Suburb | Playspace name | Features |
| --- | --- | --- |
| Avoca | Ross Park | Fenced playground. Accessible swing seat. Rubber softfall. Surfboard, Moduplay Boat |
| Bateau Bay | The Cottage Play Space | Full rubber surfacing, concrete access paths, low play elements on climbing unit. |
| Berkeley Vale | Kurraba Oval | Full rubber surfacing, concrete access paths, sound play elements, basket swing, low play elements on climbing unit, step access to one climbing unit, partially fenced, accessible toilet and picnic table. |
| Blue Haven | Lady Laurel Drive Reserve | Full rubber surfacing, concrete access paths, low play elements on climbing unit, step access to climbing unit. |
| Buff Point | Edgewater Park | Full rubber surfacing, concrete access paths, basket swing, low play elements on climbing unit, partially fenced, accessible toilet and picnic table, sculptural play elements. |
| Buff Point | Buff Point Oval | Full rubber surfacing, concrete access paths, low play elements on climbing unit, step access to climbing unit. |
| Canton Beach | Canton Beach All Access Playground | Full rubber surfacing, climbing dome, sound play elements, inclusive swing, hammock net, fully fenced area, specifically designed in conjunction with Guide Dogs Assn, accessible toilets and picnic tables, accessible parking spaces. |
| Copacabana | Susan Fahey Park district playspace, 12 Pueblo St, Copacabana | This playspace includes an inclusive play unit with accessible spinner, accessible see saw and unique rope swing; upgrade to the existing basket swing with rubber softfall to improve accessibility for all; play space area with a bespoke timber 'peek a boo' wall with informational highlights about the surrounding bushland and natural elements of Copacabana complete with braille buttons connecting wheelchair accessible pathways; accessible BBQ's , new picnic shelter and tables, drink bottle refill station; a concrete outdoor ping pong table, an outdoor chess table, adult fitness equipment. The existing toilets, which previously serviced the tennis courts, are open for public use. |
| Copacabana | Shaun Brinklow Park, 88A Copacabana Dr, Copacabana | This fenced play space has rubber softfall surfacing and includes a wheelchair accessible carousel, two bay swing set (incorporating the all abilities swing set with a 5 point harness and a nest swing), continuous pathways which double as a trike track with transport themed signage and features to encourage imaginative play. There is also a large climbing net, musical elements and a double slide. With its shaded picnic facilities and the planting of advanced shade trees throughout the park, this will be the perfect location for socialising and outdoor play. |
| East Gosford | Edogawa Commemorative Gardens | Fish feeding opportunity. Quiet spaces for retreat. |
| East Gosford | Elizabeth Ross Park | Playdale Birdnest swing, concrete path. |
| Empire Bay | Sorrento Road | Forpark senior swing with frame and handles Accessible swing. |
| Erina | Erina Community Hall, Ilya Avenue | Fenced playground |
| Wamberal | Wairakei Road | Fenced playground, accessible path from street |
| Ettalong | Ettalong Foreshore | Basket swing, rubber softfall, accessible paths, bongo drums, shade cover, carousel |
| Green Point | Sun Valley Park district playspace, 6 Sun Valley Rd, Green Point | Play equipment for a wide range of ages and abilities including nature play, climbing, balancing, swinging and spinning play elements, and equipment which is inter-generational so everyone can interact together. There's also a flying fox, shade structures and fencing, two upgraded basketball courts, connective pedestrian pathways. park furniture, public barbeques, picnic tables , water refill station, landscaping to complement the natural environment, off street carpark, upgraded amenities building. |
| Gwandalan | Tunkuwallin Oval district playspace, 130 Kanangra Dr, Gwandalan | Playspace includes an inclusive custom oversized bead and rail activity, nest swing, carousel and accessible pathways circulating the facility. |
| Hamlyn Terrace | Highland Cr Reserve | Full rubber surfacing, concrete access path, low play elements on climbing unit. |
| Hamlyn Terrace | Skyhawk Avenue Reserve | Full rubber surfacing, concrete access paths, inclusive play equipment accessible spinner, low play elements on climbing unit. |
| Kanwal | Dean Avenue Reserve | Full rubber surfacing, concrete access path, basket swing, low play elements on climbing unit,. |
| Kariong | Kariong Hall | Fenced playground |
| Killarney Vale | Avery Street Reserve | Full rubber surfacing, concrete access paths, carousel. |
| Koolewong | Koolewong foreshore | Fenced playground |
| Long Jetty | Saltwater Creek Reserve | Full rubber surfacing, Liberty Swing, climbing dome, sound play elements, shade sails, fully fenced area, accessible toilets, BBQ and picnic tables, accessible parking spaces. |
| Mannering Park | Mannering Park play space | Partial rubber/synthetic grass surfacing, concrete access paths from street to equipment, basket swing, low play elements on climbing unit, accessible picnic table, partially fenced. |
| Narara | Mitchell Park | Partially fenced, low elements, accessible path from street, shelter, shade from trees |
| Narara | Willari Ave/Apara Close Park | Nest Swing, concrete access path from street and around park, nature play low elements, shelters, seating with back rest |
| Ourimbah | Sohier Park Play Space | Partial rubber surfacing, concrete access paths from road, sound play elements, accessible picnic table, net swing, shelter. |
| Terrigal | Terrigal Rotary Park | Concrete Path access, merry go round, basket/net swing, rubber softfall, |
| The Entrance | Memorial Park East | Full rubber surfacing, sound play elements, basket swing, low play elements on climbing unit, fully fenced, accessible toilet and picnic table, accessible parking. |
| The Entrance | Memorial Park West | Full rubber/synthetic grass surfacing, inclusive play equipment, accessible trampoline, accessible spinner, low play elements on climbing unit. |
| Toowoon Bay | Swadling Park | New accessible BBQ and picnic tables under shelters. |
| Umina | Peninsula Recreation Precinct | Wheel chair accessible Merry Go round, basket net swing, maze, pirate ship, sand play table. Accessible Swing. |
| Watanobbi | Spotted Gum Park | Full rubber surfacing, concrete access path from street, low play elements on climbing unit. |
| Wyong | Frank Ballance Park | Full rubber/synthetic grass surfacing, water bubbler, low carousel, shade sails, seats with backs |