CALLING ALL ARTISTS: $28,500 prize pool on offer for Central Coast National Art Prize

Artists from around Australia are invited to submit works to compete for the Central Coast's major institutional art prize, the annual Gosford Art Prize.
The Gosford Regional Gallery is accepting submissions online now until entries close on 24 July 2023 at 4pm.
Gosford Art Prize offers an exciting range of opportunities for the visual artists working in any art form to showcase their work to a large audience and potentially become an acquisition of the Central Coast's art collection.
The list of prize categories in Gosford Art Prize 2023 include:
First Prize $15,000
Second Prize $5,000
Aboriginal Artist Prize $2,500
Gosford Ceramics Prize $2,500
Highly Commended (three prizes) $1,000 each
Viewer's Choice Award $500
Gosford Art Prize is known for making a real difference to an artist's career. In 2022, the winner of the Gosford Art Prize was Claire Tozer for her acrylic and ink on canvas Web.
The Central Coast has a diverse art scene with sustainability at its core.   You can explore art trails, creative spaces, exhibitions and theatres nestled in a region with more than 40 beaches and lush native bushland.
Visit Love Central Coast artists guides to see what other creative souls on the Coast like to do who are inspired by nature surrounding this stunning eco region including past finalist Garry Purchase who participates in a range of programs and runs several Aboriginal Art exhibitions each year at The Entrance Art Gallery.
Since the Regional Gallery's humble beginning in the 70s, the Gosford Art Prize has grown with the Central Coast.
Artworks by 133 finalist artworks were selected from across the country to adorn the gallery's walls in the 2022 exhibition, framing the region as a lively and welcoming place to participate in arts and culture.  
Each year the finalist artworks offer a compelling visitor experience. Of particular enjoyment for visitors to the Gallery is the opportunity to vote for the 'Viewer's Choice' prize – the outcome of which is always much anticipated.
The prize winners in the Gosford Art Prize will be announced 8 September at the opening night of the finalist exhibition, on show from 9 September to 5 November 2023.
For more information and how to enter visit, Judgify Gosford Art Prize 2023.
Image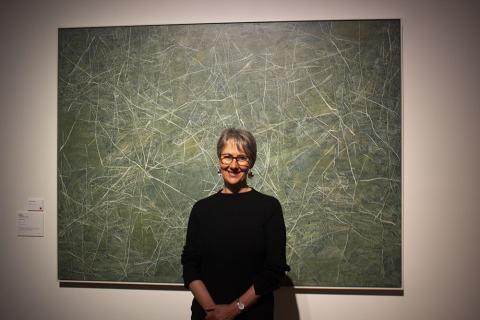 Winner of Gosford Art Prize 2022 was Web by Claire Tozer

"Walking through the wetlands in Davistown, early morning, the mist and sun were making the network of spiderwebs shimmer between the reeds and bushes. The colours of the water was the backdrop."