Council manages and maintains 893 kms of shared pathways across the Central Coast where you can walk, run, cycle or skate!  
If you're looking for a new place to explore and keep fit, here are some sections of the Coast's most popular and scenic shared pathways to try:
Woy Woy waterfront (The Boulevarde through to Macmasters Rd)
Brisbane Water foreshore, Woy Woy to Point Claire (The Boulevarde, Woy Woy to Fagans Park, Jirrah Ave Point Claire)
Gosford Waterfront (Adcock Park, West Gosford  to Gosford Sailing Club)
Ettalong to Ocean Beach (Ferry Rd, Ettalong to Ocean Beach, Trafalgar Ave, Umina) 
Kincumber to Davistown Foreshore (Carrack Road Boat Ramp, Carrack Road, Kincumber to Coomal Avenue, Davistown)
Budgewoi foreshore,  Budgewoi to Buff Point  (from the boat ramp adjacent to Diamond Head Drive, Budgewoi to Edgewater Park, Narambi Rd, Buff Point)
Chittaway Bay to Berkeley Vale (Chittaway Bay Lions Park, Cnr Lakedge Ave and Thomas Walker Dr, Chittaway Bay, to Ewen Howlett Reserve, Lakedge Ave, Berkeley Vale)
Tuggerah Lake foreshore (eastern side) - Lakedge Avenue, Chittaway Bay to Saltwater Creek Reserve and Playground, Long Jetty
Tuggerwong Shared Path (Prawn Beach Lane, Wyongah to February Street, Tuggerwong)
Respectful use of shared pathways
Shared pathways are for everyone.
When cycling on shared pathways, always wear a helmet and keep to the left. If you're planning to pass someone, slow down and use your bell or horn to let them know you're close by. 
Travel at speed that is safe for you and the pedestrians you encounter.
Keep dogs on short leads and under control at all times.
To see map of all existing shared pathways, see Council's Bike Plan 2019-2029 
Further road safety information on walking and cycling safely can be found here: Road Safety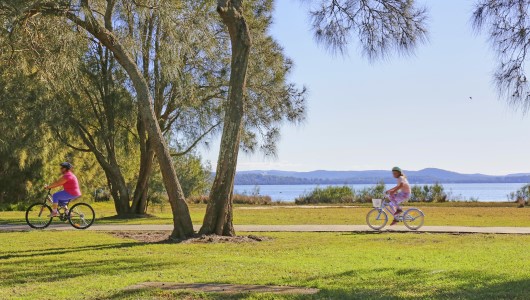 Photo: Cycling around Tuggerah Lakes