Council has committed to the upgrade and renewal of the existing Visitor Information Centre at The Entrance as part of our Operational Plan for this financial year.
We have prioritised this important project to upgrade to a multipurpose facility and improve toilets and accessibility that will not only help to drive tourism and economic spend, but also be a year-round space for locals to enjoy.
What's planned?
An interactive Visitor Information Centre experience with the ability to create tailored Eat, Stay and Play itineraries.
Replacement of existing amenities with modern and improved public facilities for all, including an 24/7 Adult Accessible Change Facility (AACF) and event toilets.
Improved layout and new decking to take advantage of the magnificent Entrance channel and natural environment, including improved accessibility.
A dedicated space to showcase and sell a wide spectrum of bespoke local products from local Makers and Creators.
A bookable function area for small-scale events.
A purpose-built accessible greenroom and backstage office area to support the existing Memorial Park stage and performers.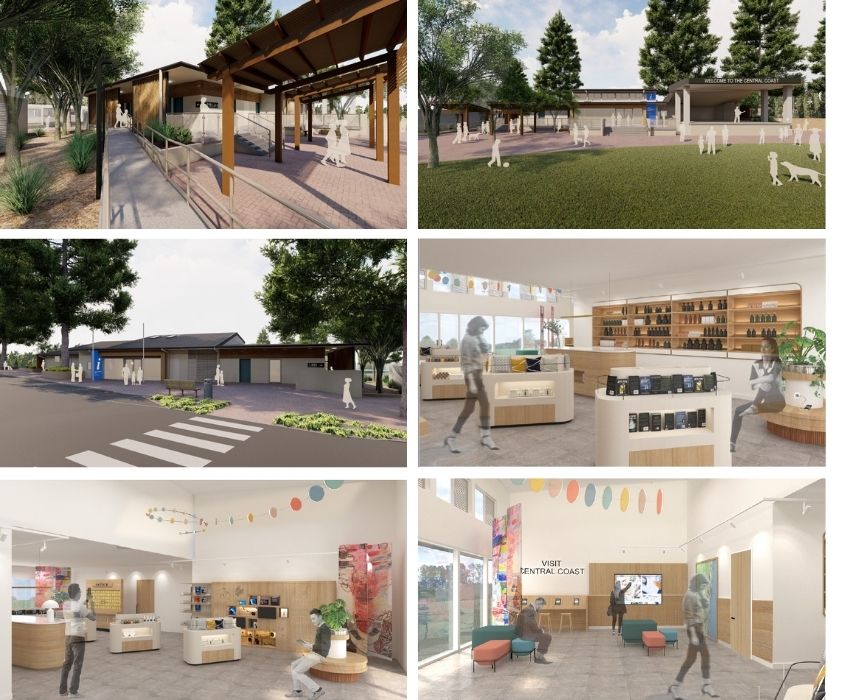 Benefits for the community
By creating an inviting and vibrant hub for locals and tourists to find key information we will increase the uptake of day trips, overnight stays and consequent spending, which is vital for the continued growth of our region's economy. The new Centre will educate and inform visitors and residents about the diverse range of experiences on offer across the Coast to disperse people and spend throughout the region.
With an already purpose-built stage and adjoining grounds, these upgrades will also improve our capacity to host large-scale events and festivals and to attract exciting new acts to the Coast.
In addition we are providing locals with improved facilities and an opportunity to learn more about the region's offerings and connect with our local makers and creators.
Project timeline
| DATE | MILESTONE |
| --- | --- |
| November 2021 | Temporary Visitor Information Centre Complete |
| Late June 2022 | Construction commences |
| February 2023 | Construction (including Toilets and Change Facilities) Complete |
| March 2023 | Visitor Information Centre Opens |
Minimising impacts during construction
We continue to make every effort will be made to minimise impacts to you as we complete these works.
Throughout construction the temporary Visitor Information Centre currently set up in Memorial Park, The Entrance will remain open to the public, seven days per week (excluding Christmas Day, Boxing Day, and New Year's Day). Responses from Council staff to email and online enquiries will continue.
Temporary toilets are in place and available near the playground in Memorial Park, The Entrance throughout the construction period.
Council's Customer Service point at this location will reopen one day a week from Monday, 6 February 2023. We will monitor customer needs and adjust as required.
We will continue to make every effort to minimise impact to the community as we complete these works, however there may increased vehicle traffic and noise in the area as we complete construction.
Click here to find alternate car parking spaces, toilets and BBQ areas that are in close proximity to The Entrance Town Centre. 
If residents are concerned about the project at any stage, we encourage them to contact our online Customer Service Centre or by calling 02 4306 7900 .