BOOKED OUT
Date
Thursday, 17 January 2019 - 10:00am

to

Sunday, 20 January 2019 - 4:00pm
Chalk the Walk during January's School Holidays is a free four day pavement painting event. Waterfront Plaza will turn into a museum of chalk art! Opportunity for everyone to get involved! Local artists can register and create their own chalk art masterpieces or contribute to a group artwork, kids can create their own masterpieces, interactive opportunities and much more!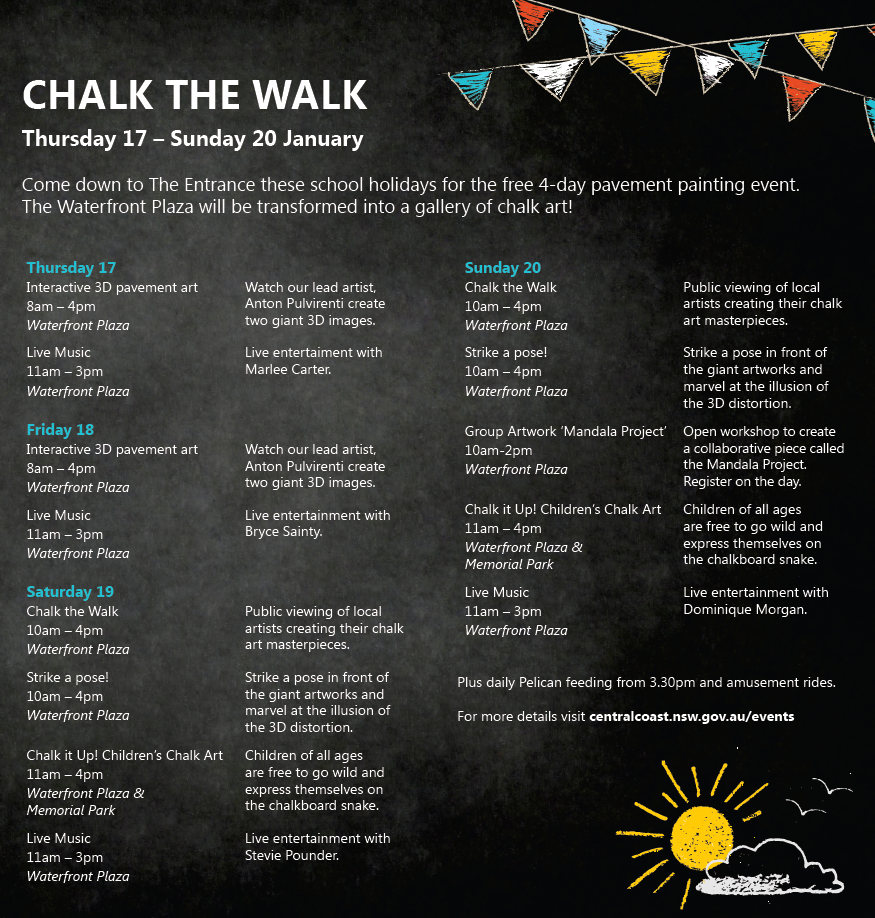 Call for artists
We are looking for up to 20 artists (18 years and over) to take part in the 'Chalk the Walk' event.
You will be given the oppportunity to attend a 2 hour workshop with the lead artist, Anton Pulvirenti, followed by a day to create your own masterpiece for the community on the Waterfront Plaza, The Entrance.
No previous experience with chalk necessary - all levels of experience welcome!
Thursday 17 January 2019 - 5:30pm to 7:30pm
Workshop with Anton Pulvirenti
Saturday 19 January 2019 - 10am to 4pm
Day to complete artwork
Applications close: Monday 14 January 2019
For more information and to apply, please contact Zac Craig - ctw@zestevents.com.au
https://www.facebook.com/events/665647967136760/