BOOKED OUT
Date
Saturday, 6 February 2021 - 9:30am

to

Sunday, 14 March 2021 - 4:00pm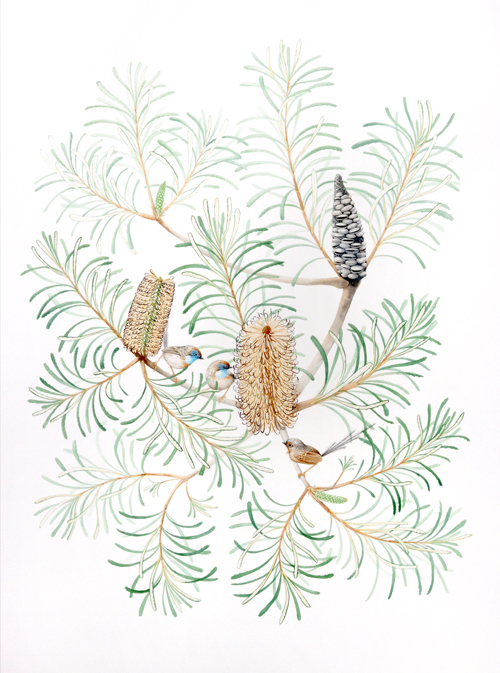 About the Exhibition
Australia is home to an incredible variety of bird species. Each is unique in how they look and move; what they eat; where they live and mate; and central to this body of work, how they nest. Sojourn celebrates the diverse world of semi-permanent homes created by vulnerable and endangered Australian birds. Artists Nicole Berlach and Lissa-Jane de Sailles have brought together their natural history illustrations and woven sculptural forms for this insightful exhibition, highlighting the ingenuity of form and function in a variety of nests. This is the second collaborative exhibition between these two artists. 
About the Artists
Nicole Berlach is a Central Coast artist and children's book illustrator who holds a Bachelor of Natural History Illustration from the University of Newcastle. Her scientific illustrations have been published internationally and can be found in the Archival Collection at the State Library of NSW. Lissa-Jane de Sailles is an awarded basketry artist and teacher residing on the South Coast of NSW. She was awarded the 2018 National Basketry Organisation (USA) 2019 Congress Scholarship and has exhibited internationally. 
Details
Exhibition Dates: 6 February to 14 March 2021
Opening Hours: 9.30 to 4.00pm, 7 days
Entry: Free 
Venue: Gosford Regional Gallery
Workshop
Nest: Weave Like a Bird with Lissa-Jane de Sailles
Saturday 6 March 10:00am - 4:00pm
$150/$140 members (light lunch provided) Book here: https://www.trybooking.com/BOYNQ
Discover the ingenious ways that our native birds construct nests as well as innovative techniques and age-old basketry skills to create your own beautiful sculptural forms. 
Lissa-Jane de Sailles is an accomplished artist, Her latest exhibiton Sojourn is currently on exhibiton at the Gosford Regional gallery. Students will be taken on a personal tour through the many creations in this exhibition. 
Images from top: Lissa-Jane de Sailles, "Nest" (2015), twigs, seagrass, linen thread; Nicole Berlach, "Banksia, spinulosa and Southern Emu Wren", watercolour on paper 
https://www.facebook.com/events/662049957794183/