COVID-19 Update
In response to COVID-19 virus, we have suspended the delivery of all library programs, events and outreach services until at least 30 April 2020. This includes our Home Library Service, Bookmobile, School Holiday Program and temporary closure of Gwandalan Library Link. We apologies for any inconvenience and thank you for your understanding and patience during this time.
Our Library Service is here to support the community's learning and recreational needs. Even though library branches are temporarily closed to prevent the spread of COVID-19 and protect community health, there is a superb collection of free online services available anywhere, anytime! 
People of all ages can continue to connect, relax and learn while practicing social distancing with free access to eBooks, eAudiobooks and eMagazines, music streaming and family history resources. Our range of online items and resources are available for people to view at centralcoast.nsw.gov.au/elibrary
Our new Click and Deliver service offers library members the opportunity to borrow a wide range of items and resources which are delivered to your door. Members can request individual items or a bundle of five items pre-selected by library staff by searching 'Click and Deliver'. Simply reserve as you usually would via your online account, which can be accessed through the Library app, email library@centralcoast.nsw.gov.au, or phone your local branch. Please note there is a limit of five items per member, so if you reserve a bundle you will not be able to reserve any additional items. We will contact you before your items are delivered to confirm your address and contact details.
Reserved items are quarantined between deliveries and staff are taking extra precautions through the use of hand sanitiser and gloves before handling items when making deliveries. This service means we can continue to support our community's learning and recreational needs with contactless connection to maintain community safety and promote mental health and well-being. Delivery times are currently estimated to take approximately two weeks.
For history buffs, the Library now has online interactive jigsaw puzzles featuring photographs from local history of the Central Coast. Enjoy the fun of completing a jigsaw while learning about our past! In addition 'Ancestry' and 'Find My Past' are temporarily accessible from home. Contact the Library for more information on how to access these services. 
Whether you need help with family history research, or a way to keep your mind active, there is something there for everyone. Find out more at centralcoast.nsw.gov.au/council/news/our-elibrary-always-open
If you have any questions or need help our library staff are available via phone and email to step you through the process.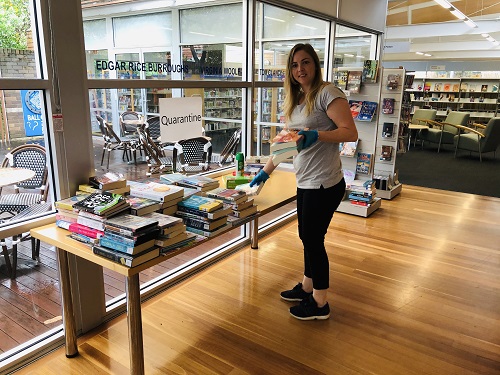 The information on this page may not be correct during this unprecedented health event. Essential services are still being provided to the community, however many Council services and programs have been placed on hold while facilities and some open spaces are closed.
Our COVID-19 information area details all impacts to Council services, facilities and programs as well as the local response to coronavirus.