Warnervale ALA is a small aircraft landing area owned and operated by Central Coast Council. It is located on Jack Grant Avenue, Warnervale and is approximately 90 minutes' drive north of Sydney and 45 minutes south of Newcastle. It was previously known as Central Coast Airport and Warnervale Airport before its most recent name change by resolution of Council on 10 August 2020.
Proactive release of documents
Council has released a number a documents relating to Warnervale ALA including daily movements, reviews, briefings, Council reports and correspondence all of which can be viewed here.
Latest news
Recycling Initiative between Warnervale ALA and Central Coast Stadium - 8 February 2021 - Central Coast Stadium is currently being re-turfed to ensure the field is up to the standard needed for quality sporting events. In that process 1100 tonnes of soil needs to be removed and has found a home at the Warnervale ALA.  The soil will be used at the ALA to improve grounds maintenance.  About 37 truck movements will be needed, from 8 February 2021, to transport the 1100 tonnes to the ALA.  A large proportion of the recycled soil will be spread on the grounds to the northern end of the ALA. There will be ongoing movements as the soil is recycled and reused in other Council projects and facilities including Council Holiday Parks.
Warnervale Airport (Restrictions) Repeal Bill - NSW Legislative Assembly Portfolio Committee NO.7 - Planning and Environment - Report on Proceedings - Friday 30 October
Council and Aero Club committed to working together - media release issued Friday 23 October 2020
Find out about the displaced thresholds currently in place at Warnervale ALA.
For Pilots
Prior permission to land is required a minimum of 24 hours before operations - send your application to landingrequest@centralcoast.nsw.gov.au 
The physical characteristics of the ALA are RWY 02 DTHR 243M and RWY 20 DTHR 398M.
Line marking have recently been completed which have moved the displaced threshold at each end of the runway further away from the trees to make it safer for pilots to land.
Please refer to the YWVA ERSA entry and NOTAM C1046/20 (below)
Warnervale Airport Restrictions (WAR Act) Review 
The NSW Government has recently completed an independent review of the Warnervale Airport (Restrictions) Act with the following recommendations: 
The Act should be repealed as soon as possible (this is a NSW Government responsibility with legislation introduced into Parliament on 26 September 2020) 
Ensure community confidence

Clarify governance – detail roles and responsibilities in aviation safety as well as planning, amenity and environmental matters
Clarify legislative hierarchy of statutory protections
Clarify process required for any change of use and development application – review highlighted Council had not followed this process in the past

Council to clarify its position in relation to the Airport 
Urgent safety recommendation – request for tree height to be reduced at northern end of aerodrome.
Roles and Responsibilities in aviation safety and operations
There are a number of agencies who oversee aviation safety and operations as well as planning, amenity and environmental matters. The following Hierarchy of governance explains these responsibilities: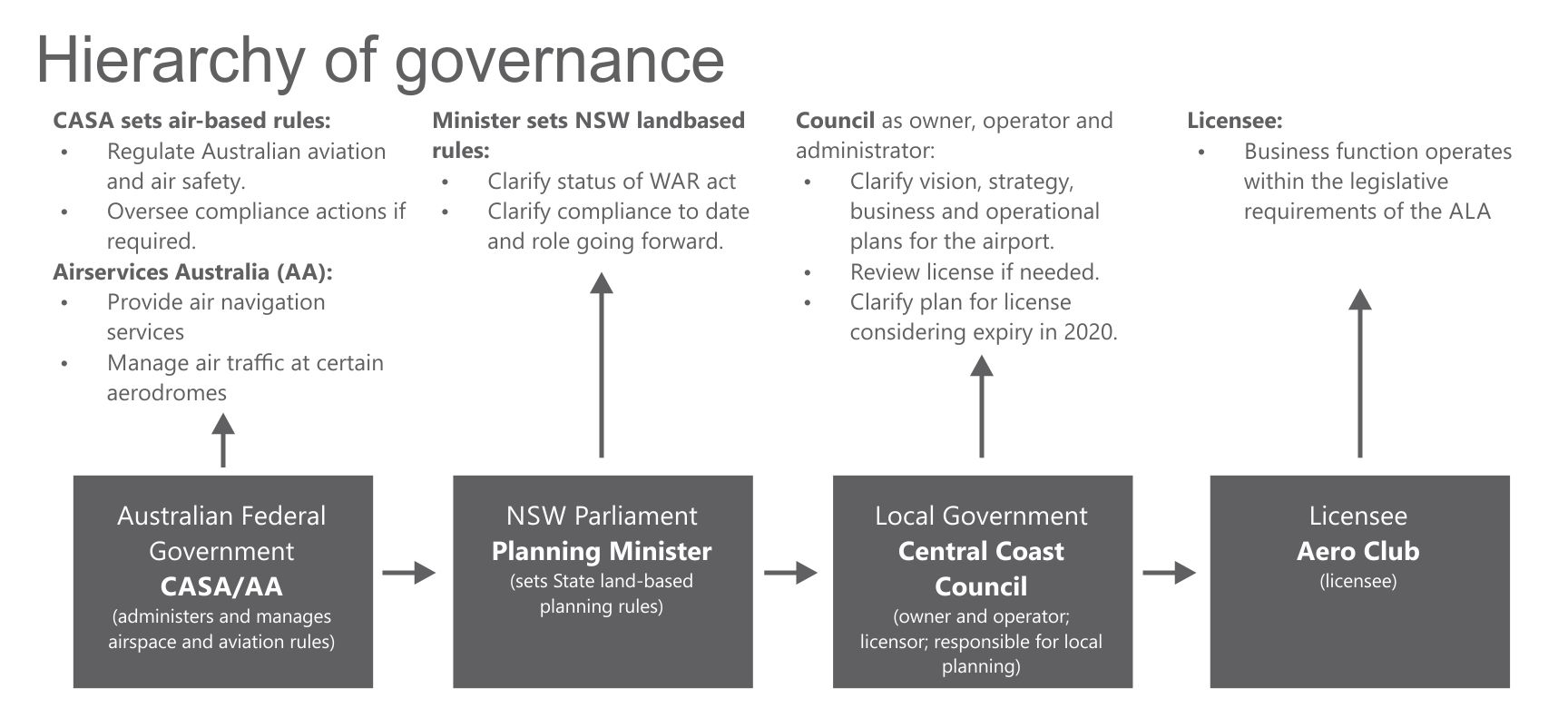 Who owns Warnervale Aircraft Landing Area (ALA)
Warnervale ALA is owned and operated by Central Coast Council.
What is the difference between an ALA and an Airport?
ALAs are not subject to CASA's regulatory oversight and are self-regulated by their operator. In this case the operator is Central Coast Council. 
Why has the aerodrome been renamed as Warnervale ALA?
To more accurately reflect the status of the facility and level of service provided.
Who uses Warnervale ALA? Can anyone land there?
Typically only aircraft with a maximum take-off weight (MTOW) of less than or equal to 5700kgs can use Warnervale ALA. 
What approval is needed to land at Warnervale ALA and who decides?
Council generally requires 24 hours' notice for any landing request. Exceptions can be made for emergency service or medical transport aircraft. Landing requests are only accepted via email.
How long is the runway? Will it be extended further?
The runway has an overall length of 1193m.
The northern threshold is temporarily displaced by 398m, and the southern end is temporarily displaced by 243m.
The runway cannot physically be extended as there are natural barriers preventing this from happening such as the wetlands to the south and Sparks Road to the north.
Is it safe for aircraft to take off and land at Warnervale ALA?
It is entirely up to the pilot of an aircraft to decide if it is safe to land their aircraft at an aerodrome given the prevailing conditions.
What types and size of aircraft can land at Warnervale ALA?
Typically fixed wing aircraft, helicopters and ultra-lights use the ALA.
How many aircraft land and take off at Warnervale ALA every day?
For the most part there are approximately 10 local aircraft that use Warnervale ALA on a daily basis.  Monthly aircraft movement data is published on the Access to information page. 
When will the Warnervale Airport Restrictions (WAR) Act be repealed?
The WAR Act will need to be repealed by an Act of Parliament. A date is to be advised so currently the WAR Act remains in place. The repeal will immediately repeal some parts of the Act but some could remain in place for up to three years.
Does repealing the WAR Act mean there will be more aircraft taking off and landing at the ALA?
Not necessarily.  The WAR Act does not in itself prevent aircraft from landing at Warnervale ALA.  Council would not preclude additional aircraft landing particularly for emergency purposes.
When the WAR Act is repealed what rules or legislation will govern operation of the ALA?
The same guidelines published by the Civil Aviation Safety Authority (CASA). Central Coast Council regulates all ground operations.
Is the ALA going to be developed into a Regional Airport like Newcastle or Sydney?
No, due to natural environmental restrictions. 
What works are planned at Warnervale ALA this financial year (2020-21)?
Minor taxiway maintenance and return of runway displaced thresholds following pruning of trees at the northern and southern ends of Warnervale ALA, subject to approval from Council.
Is the ALA open to the public?
Yes there is an outdoor viewing area at the front of the Central Coast Aero Club.