Date
Wednesday, 17 February 2021 -

6:30pm

to

7:30pm
Join us online via Zoom as Andrew Pippos talks about 'Lucky's', milkbars and writing.
Lucky's is a sweeping saga that pays homage to a gone-but-not-forgotten era of Australian multiculturalism. The compelling role of the Greek-Australian café within modern Australian identity is increasingly documented in popular culture and history books alike. While sadly few exist now, for much of the second half of the twentieth century these cafés could be found on urban shopping streets and in rural country towns. They represented a new Australian zeitgeist and symbolised every-day multiculturalism. The Greek-Australian cafe milieu gave Andrew his earliest sense of community.
A richly told narrative inspired by the author's family, Lucky's explores the power that love and luck plays in our lives.
Andrew Pippos will be in conversation with Amy Heap from Riverina Regional Libraries with the support of NSW Public Libraries Association
About the author
Andrew Pippos spent part of his childhood getting underfoot in his family's Greek-Australian café. When he grew up, he worked in newspapers and taught in universities. This is his first novel, and it packs in everything he knows about growing up in a noisy, complicated, loving family. He lives in Sydney.
'Lucky's' is Andrew Pippos's debut novel. A former journalist, Andrew has a doctorate in Creative Writing and tutors at the University of Technology, Sydney. He lives in Sydney's inner west.
About the book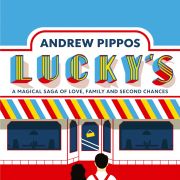 Lucky's is a story of family. 
It is also about a man called Lucky. 
His restaurant chain. 
A fire that changed everything. 
A New Yorker article which might save a career. 
The mystery of a missing father. 
An impostor who got the girl. 
An unthinkable tragedy. 
A roll of the dice. 
And an immigrant story of love lost, sought and 
won again (at last) — a story abundant with 
hurdles, tragedies, second chances, defeats and 
victories.
Bookings are essential. to reserve your virtual ticket, click the 'Book now' button, phone 4304 7500 or ask in any library branch. A Zoom link will be sent via email prior to the event, remember to check your spam/junk folder if you do not receive the link.