The 'Sustainability Starts With You' campaign was developed by Central Coast Council's Youth 4 Youth (Y4Y) Action Team over 2020 and 2021 to empower young people to take practical steps to reduce waste, increase sustainable habits and encourage the reduction of single use plastic. 
Why is this important? The Central Coast Youth Strategy has shown that 77% of young people on the Central Coast identify caring for the environment as being important to them, and plastic waste as being of most concern. 
The Y4Y 'Sustainability Starts With You' campaign aims to invite young people to practice sustainability principles: to refuse what they don't need, reduce what they're getting, reuse it and recycle or compost it. 
Who is Y4Y?
The Youth For Youth (Y4Y) Action Team is a motivated group of young people who provide a voice for young people in our community. Y4Y members play an important role advocating and advising on youth related issues and delivering actions from the Central Coast Youth Strategy to make a difference for young people across the region.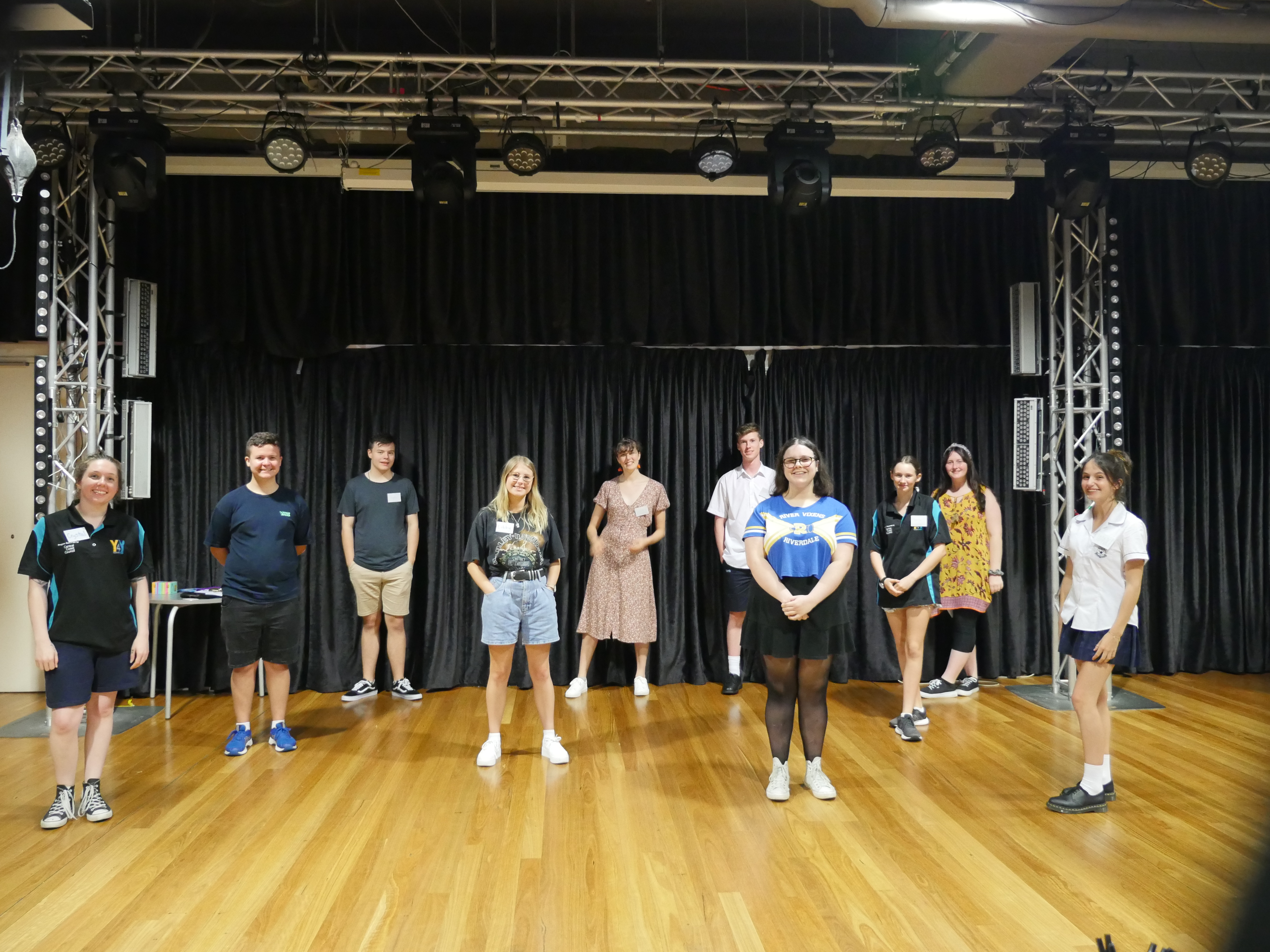 Pictured: Y4Y Action Team, 2021
Y4Y Seeds For Change 
You may have found your way to this page via one of our seed bookmarks or seed swing tags. Y4Y and Central Coast Council Youth Services are passionate about sustainability and are taking smalls steps to create long term changes. We wanted to plant the seeds for change in the minds of young people across the region - with physical seeds, of course! You'll be able to plant your own seeds in your own backyard and watch them grow, just by planting your bookmark or swing tag into the earth! We hope that they inspire you to take your ideas and make them grow, no matter what they may be. 
How to plant your Seeds For Change bookmarks and swing tags: 
Soak bookmark or swing tag in water until soft
Place on soil and lightly cover with more soil
Water well until seeds sprout (germination may take 7-21 days)
Discover the sustainable story behind our swing tags. Share the love with your seeds of change using #Y4YSeedsOfChange.
People doing great things in the 'living green' space
Local - Isabella Penny 
The artist behind the art – Isabella Penny is the winning artist in the 2020 Y4Y Sustainable Artwork project competition.
As part of the project, we asked the Coast's young artists to get creative and submit an artwork that aligns with the Central Coast Youth Strategy key theme of 'Living Green'. Isabella's work was shortlisted by our judging panel and voted by the social media community as the winner! As part of her prize, Isabella received an arts and craft voucher so she can continue creating art. Want to know more and be involved in the next Y4Y Eco-Art Trail project? Sign up to find out more.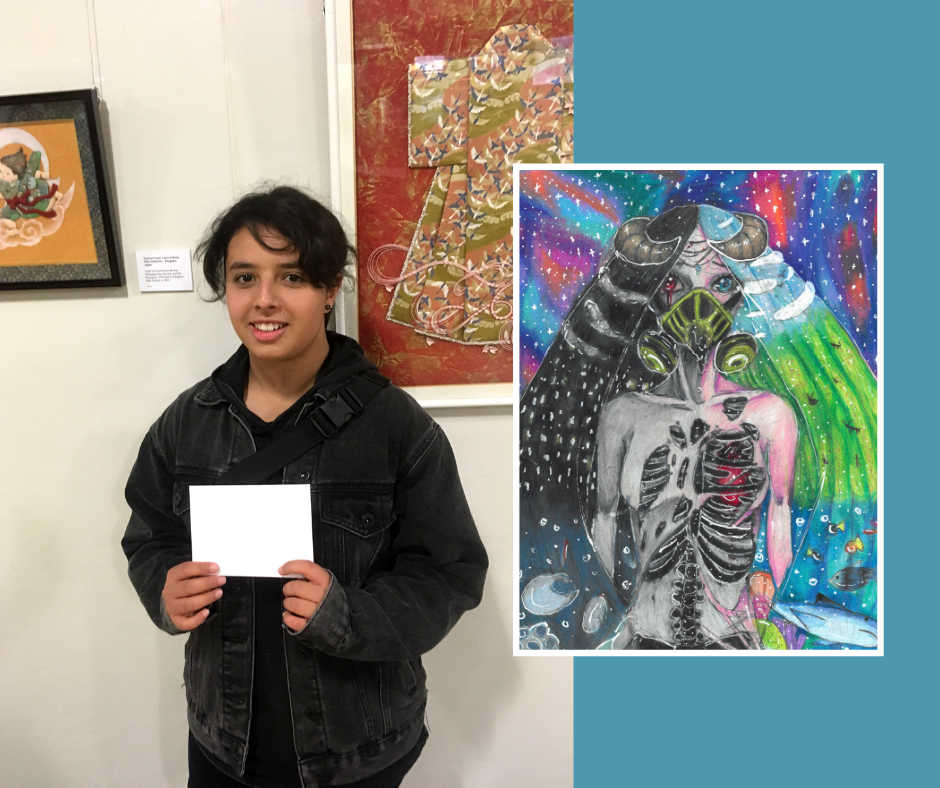 We talked to Isabella (pictured above) about the inspiration behind her work.
What does your artwork aim to say? How the onus is on us to protect the environment from the pollution we create. The woman is Mother nature, half her hair is clean, and the other half represents the toxins and pollution we emit. The artwork aims to signify the earth dying from how badly the pollution is affecting it.
Why did you make this type of art? This is the style I usually draw in. I like to draw colourful pieces that represent darker themes.
Is there a particular artist that inspires you? I have always been drawing. I had a friend when I was younger whose art I admired and inspired me.
Do you have any other hobbies besides drawing? Skateboarding, comic books, anime and hanging out with friends.
Regional and national - Ruby Tavener and Vanessa Moskal 
Ruby and Vanessa facilitated the Youth Leading The World – OZGreen Capacity Building Workshop at Council's 2021 Y4Y Thinking Out Loud Youth Forum.
Ruby Tavener
Ruby joined OzGreen at 13 years old. 
Trained as a YOUth LEADing the World (YLTW) Facilitator, inspiring hundreds of other youth as she facilitated several Youth Leading the World (YLTW) congresses.   
Ruby has helped to run multiple YLTW Congresses in Australia, India, Nepal, Cambodia and Vietnam.   
Recently achieved a Degree in International Development Studies  
Currently studying a Masters in Social Work.   
Check out Ruby's inspiring TEDx talk in Bellingen.
Vanessa Moskal
Vanessa joined OzGreen at 17 years old. 
Invited by OzGreen in 2009 to participate in the YOUth LEAD model that focused on training local people to run youth leadership congresses. 
While most people partied their schoolies week away,  Vanessa made the choice to lead the way and facilitate her first YLTW congress instead. 
Fast forward 3 years, Vanessa ran for Council and was elected as the youngest ever Councillor on Warringah Council.  
Recently completed a Bachelor of Political, Economic, and Social Sciences (BPESS) and is now employed as NSW CSO (reducing carbon emissions) at the National Carbon Bank of Australia.   
Global - Hugo Maupetit and Vivian Fischer
French design students Hugo Maupetit and Vivian Fischer have developed a system for collecting discarded chewing gum and turning it into colourful, recycled plastic skateboard wheels. Read their story to explore the potential of how ideas can become initiatives for collaboration between major brands and manufacturers in this case.
How can you get involved with sustainability?
Have your say on our waterways: Coastal Management Program
Waterways are a huge part of the Central Coast community's lifestyle. They're not only part of our local identity, they support our local economy, provide recreational and social opportunities, and support our mental and physical wellbeing. 
Central Coast Council is currently consulting with the community through a region-wide survey to help inform the development of a Coastal Management Program. We'd love to hear what you have to say on our waterways by:
Get involved in environmental volunteering 
We have such a diverse natural environment on the Central Coast, which means there's plenty of opportunities for you to get involved and help protect where you live! 
There are also responsive programs that have been formed, often after natural disaster, which include:
To find out more about local environmental volunteering opportunities, get in touch with Volunteering Central Coast.
Living Green initiatives across the Coast
Have you got your KeepCup? KeepCup is more than a product, it's a practical initiative empowering its users to take responsibility for their own actions.
Did you know: if 250 reusable cups are distributed to 250 young people and 80% of those enjoy a coffee or hot beverage every day, the implementation of the 'Sustainability Starts with You' KeepCup initiative would reduce the environmental impact annually by:
52,000 single use cups
599 kgs of waste
156 kgs of plastic
Find out more about what Central Coast Council is doing to Keep The Coast Clean.
You can recycle all sorts of household items across the Coast! Local recycling services and programs include:
Battery and light globe recycling and eWaste recycling at selected Central Coast Council facilities
Pens, e-waste, printer cartridges and ink cartridges, mobile phones, small household batteries all at Officeworks
Garment recycling at H&M Tuggerah
Soft plastics at Woolworths and Coles  
Coffee cups at 7/11
All types of batteries can be recycled at Battery World
Broken items in despair can be brought in for a new lease on life at the Repair Cafe on the 3rd Sunday of every month (February to November), Kariong Progress Hall. Items repaired for next to nothing to save them from going into landfill
Sustainable shopping options are far and wide across the Central Coast region, check out:
Cut out unnecessary packaging by bulk buying! Find bulk buys and refills at:
Connect with Y4Y
Connect with Y4Y via the Y4Y Facebook page. Share your Y4Y sustainability stories using: #CentralCoastY4Y #Y4YSeedsOfChange #Y4YSustainablityStartswithYOU
Applications to be a Y4Y member open annually in September. Learn more information.