The Terrigal and Coastal Lagoons Audit is a comprehensive water quality improvement program to address pollution risks for recreational swim safety and ecological health.
A team of scientists from Council, the NSW Government and the University of Technology Sydney (UTS) collaborated with technical experts and operational staff from Council to assess the possible sources of pollution in each catchment and determine the impacts on short and longer-term recreational water quality, as well as prioritise public and private sewer network upgrades.
In response, major investigations of public and private infrastructure have, and continue to be undertaken, to identify hotspot areas of contamination.
Safe to swim
It is safe to swim at Terrigal Beach, the Haven and the coastal lagoons if you follow the rainfall recommendations on our advisory signs. Please note that this area can be affected by stormwater pollution for up to three days following heavy rain and swimming during this period is not recommended.
As a result of many years of water quality data collected by Council, in conjunction with looking at recent rain data, Beachwatch can provide daily pollution forecasts. For more information and to subscribe to daily feeds, find your beach under Central Coast beaches on the Beachwatch website.
Remediation program
The remediation program has identified a range of potential sources, including the aging sewer network and illegal private connections as significant contributors.
Council has been cleaning and relining pipes, resealing and raising maintenance holes, digging and replacing pipes, undertaking sewer pump station upgrades and arranging for illegal connections to be rectified.
Considerable progress has been made throughout the investigation and remediation program, with works from 19 January 2019 - 1 June 2022, completing 94.9 kilometres of sewer pipe inspections, of which 35.7 kilometres of sewer pipes were identified as needing upgrades, 34.1 kilometres have been relined to date. Overall, 2,777 maintenance holes and 1,036 private properties have been inspected in which 23 illegal connections were identified and more are expected as the project continues.
A map of remedial works to upgrade defective sewer infrastructure can be viewed on the Your Voice Our Coast website.
Remediation progress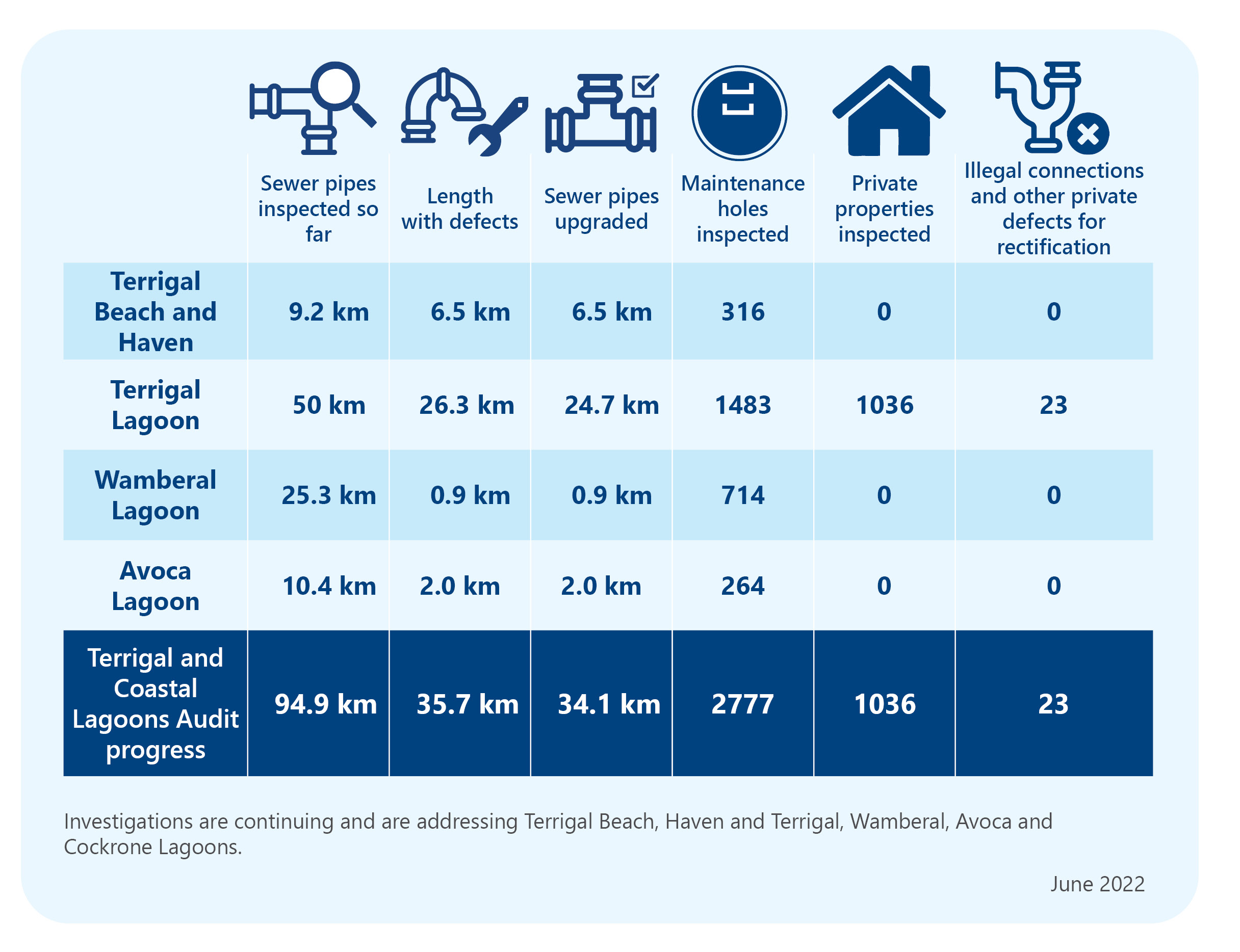 Improving sewer network operations to improve water quality
Our remediation program delivers cumulative benefits by actively reducing:
sewer overflows in wet weather
sewer exfiltration into groundwater and waterways
direct illegal sewer connections that are damaging to the environment and may impact swimming conditions.
What community members can help improve water quality
Inside the home - How you can help 'Save Our Sewers'
By being water and sewer aware, and actively participating to 'Save Our Sewers', we will continue to make the Central Coast even better.
Only ever flush the three Ps down your porcelain throne – Poo, Pee and Paper – everything else needs to go into the appropriate bin.
Flushing things down drains or toilets can cause significant damage. Household waste such as food scraps, fats and oils, cigarette butts, nappies, dental floss, sanitary items, cotton buds, stickers on fruit, and wipes – even if they are labelled 'flushable' all belong in the bin, not the sewer.
Make sure you 'Dial before you Dig' – this is a free national referral service which can be accessed online to locate underground pipes and prevent damage and disruption to our vast infrastructure networks.
Outside the home - How you can help reduce sewer overflows and breaks
Have your sewer system checked and make sure it connects to the sewer network and not the stormwater network
Have your stormwater assets (pipes that convey rainwater from the house, shed, garage or rainwater tank overflow) checked and make sure they connect to the stormwater network. Connecting your stormwater to the sewer network overloads the sewer's capacity and can cause overflows in rainy weather.
If you suspect you have a damaged manhole on or near your property, please contact Council on 1300 463 954 anytime day or night to report it.
Make sure gardens and trees are located away from the sewer pipes. Tree roots flourish in the sewer, but they can cause a lot of damage that can be hard to detect from the surface
If renovating, make sure you do not damage underground sewer pipes. Cracks and breaks can cause sewage to leak into the groundwater and stormwater, contaminating our waterways and coastline.
If you own an on-site sewer system, be sure to have it inspected on a regular basis.
What to do if you suspect a sewerage block or overflow in your area
When alleged blockages and overflows are reported, our primary concern is the health and safety of the public and the environment. We have crews on standby 24 hours a day, 365 days a year so please call Council immediately – day or night – on 1300 463 954 if you experience water or sewerage concerns.