Tuesday, 22 December 2020
Creating an accessible and inclusive Central Coast
With Council in the final year of delivering its Disability Inclusion Action Plan (DIAP) 2017-2021, we are thrilled to update the community on the work we have been doing to creating a more accessible and inclusive Central Coast. 
What is a Disability Inclusion Action Plan (DIAP)?
All councils are required to have a DIAP under the NSW Disability Inclusion Act (2014). The DIAP is a four year plan that details the strategies and actions being undertaken by Council to enable people with disabilities to better access mainstream services, facilities and spaces, information and support. Its purpose is to ensure people with disabilities are fully included and participate in all aspects of community life.
Our DIAP 2017-2021 was developed in close consultation with people in our community who have a lived experience of disability, as well as local disability services, support organisations and advocacy groups.
We are currently consulting with the community to develop a new DIAP. An important part of this consultation is the appointment of the Access and Inclusion Reference Group. A new Access and Inclusion Reference Group has been recruited to guide Council on the final year of the current Plan and to advise upon the new four year Plan, which will be adopted in 2021.
Key highlights:
Council has made progress in many areas under the current plan and will continue to progress actions in this final year to achieve positive outcomes for people with a disability on the Coast. Key achievements and highlights from Council's Disability and Inclusion Action Plan to date include:
In 2018 an audit of all patrolled beaches on the Central Coast was conducted to improve access to beaches. This led to the installation of permanent beach matting over the summer months at Umina Beach and Toowoon Bay, and Avoca Beach on the weekends. Ocean Beach will be completed in coming weeks. Council also purchased more beach wheelchairs and erected signs to promote their availability.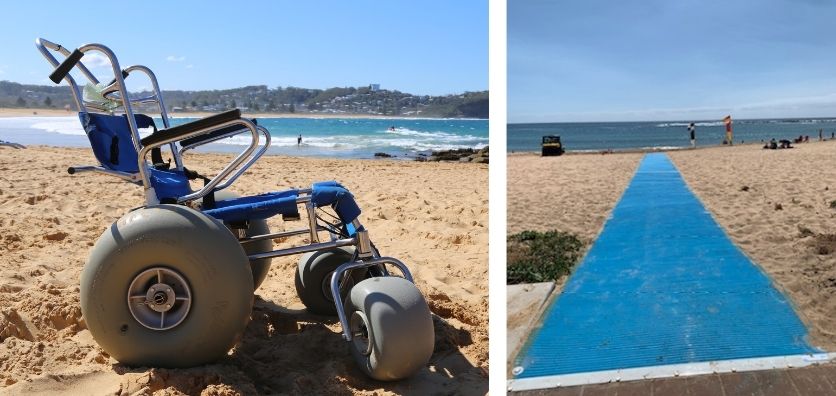 Pictured above: A beach wheelchair at Avoca Beach and beach matting.
Educating local businesses on how to be more accessible and expand their customer base through a series of local business forums and the distribution of a Business Resource booklet.
Implementing targeted disability awareness training to Council staff.
Capital works projects that will enhance accessibility to areas regularly visited by tourists and residents including:


continuous paths of travel at all entrance and exit points of the Terrigal Boardwalk
installation of an accessible adult change facility at Gosford Olympic Pool and other accessibility upgrades to Wyong Pool and Lake Haven Leisure Centre
installation of wheelchair accessible picnic tables, shelters, pathways and barbeques at Memorial Park, The Entrance
renewal of the walkway between the Surf Club and the eastern rock shelf at Avoca Beach
installation of a decking pathway to the viewing platform at front of Umina Beach
an upgrade to the Koolewong boat ramp, jetty and foreshore to increase accessibility including ramped access to the jetty
pathways to fishing platforms at Gwandalan and Terilbah Reserve, The Entrance
installation of 86 bus stop slabs that meet the Disability Standards for Accessible Public Transport
an upgrade to Chittaway Lions Park play space, including a concrete path connecting the shared pathway and seating area and partial rubber flooring, creating an inclusive play space for the whole community
an access audit of picnic area and walking trails at Kincumber Mountain, which will result in a map of accessible walking trails
access audits on key Council owned buildings and open spaces.

Sensory spaces at key community events and activities run by the Library Services and Youth Services teams and Central Coast Stadium.
The 'Including You' sensory tent at key Council and community events including The Lakes Festival, Harmony Day, Christmas at The Entrance, Australia Day at Woy Woy, Budgewoi Festival, Coastal Twist and International Day of People with a Disability.
11 community forums (online and face to face) with various groups across the Coast, including the Access and Inclusion Reference Group, to seek feedback for the development of the new four year DIAP.
A seated fitness video uploaded to Council's Coast Connect YouTube channel.
Auslan interpreters at Council events including the inaugural Innovation Series, Australia Day presentations at Woy Woy, selected Laycock Street Theatre productions including Sydney Comedy Festival, The Sapphires and Possum Magic and at all quarterly Access and Inclusion Reference Group meetings.
Replacing gate and lock with a MLAK (Master Locksmiths Access Key) to improve access to the walking trails at Kincumba Mountain.
A photographic exhibition with Central Coast ARAFMI to raise awareness of Mental Health as a hidden disability.
International Day of People with a Disability celebration that included barista training to people with a disability and promotion of accessibility maps.
Customised Community Grant training workshops for the disability sector.
Five Town Centres were audited, with accessibility maps produced to inform positive attributes and priorities upgrades.
Accessible text and formats were incorporated into wayfinding signage as advised by Access and Inclusion Reference Group.
All new play spaces to incorporate inclusive design utilising the 'Everyone Can Play Guidelines'.
Providing up to date information and accessibility features for all Council play spaces on the Council website.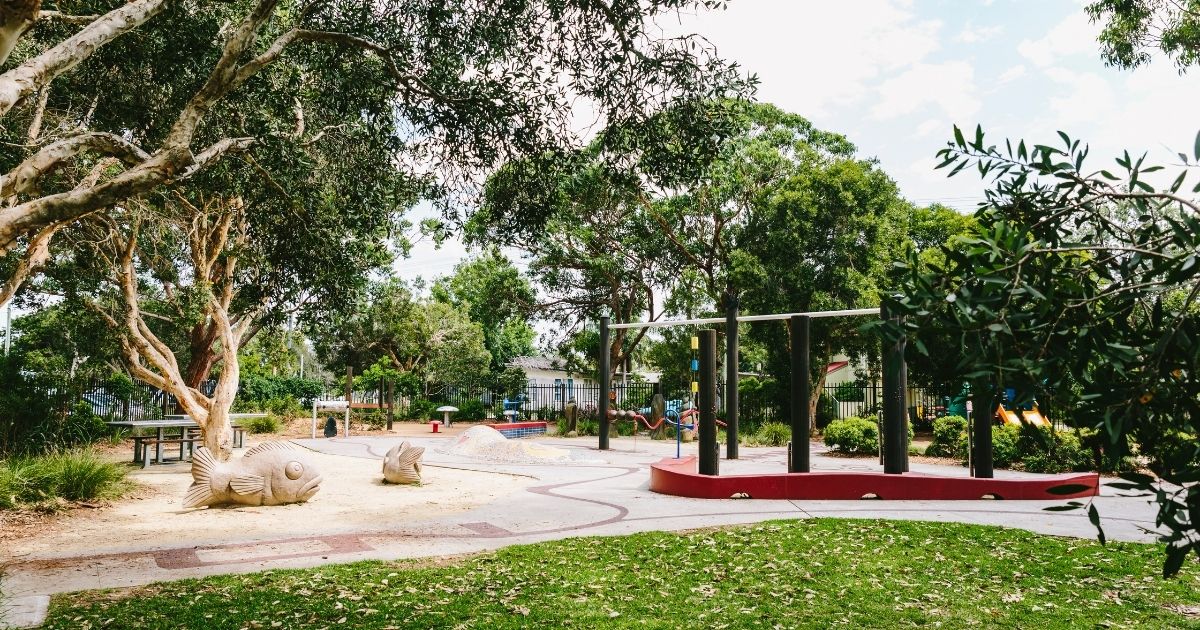 Pictured above: Inclusive playspace at Canton Beach.
The Companion Card is now accepted at all Council facilities that charge an entrance fee.
Using a Content Management System on the Council website which is compatible with Web Content Accessibility Guidelines (WCAG2.0).
Intalling hearing loop systems in Council's Gosford and Wyong Council Chambers and the Erina Centre facility.
'Seen & Heard' inclusive arts project delivered in partnership with Musicians Making a Difference and Ability Links where young people  living with a disability could creatively raise awareness about access and inclusion.
Kincumber Library was featured as one of the accessible workplaces in the factual ABC TV series 'Employable Me'.
To learn more about the work that Council is doing to create a more accessible and inclusive Central Coast, visit our Accessibility and Inclusion page.