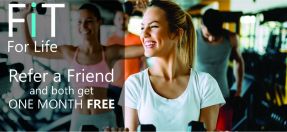 Getting fit is always more fun with your mates. That's why if you encourage a friend to join you at one of our leisure centres, both you and your friend will receive one month's free membership. Do...
Category
Promotions
The information on this page may not be correct during this unprecedented health event. Essential services are still being provided to the community, however many Council services and programs have been placed on hold while facilities and some open spaces are closed.
Our COVID-19 information area details all impacts to Council services, facilities and programs as well as the local response to coronavirus.